---
Welcome to my little Sci-Fi/Fantasy/Satire/Humour Canadian Corner...


Here's where my heart lies,
Adrift on the seas of thought.
Caught in the Currents of Magnificent Dreams
To wash ashore on Strange Sands and dwell in the Mists of Forever.

(JFB 2003)




---
Why Sci-Fi/Fantasy Art?

A Short Personal History

Sherman, set the Wayback Machine...

As a youngster, about 8 years of age or so, my father introduced me to this genre with the works of Lewis Carrol.His
modus operandii was to bring me insight into the world of logic,specifically the works of Sir Bertrand
Russell and Ludwig Wittgenstein.What he actually did with this was to incite me to enter
the Gestalt that is Macrocosmic/Microcosmic/Intracosmic* Fiction.

From his suggestion that if I wanted to read "REAL" Science Fiction that I had to read
Flatland:A Romance of Many Dimensions
...I was hooked.
I devoured all the local library's copies of C.S. Lewis' stories as well as Fred Hoyle's The Black Cloud, among many others, in very short order.
I've been a huge fan now for the almost 30 years since.

As an artist, I then went through what I like to call my "23 year apprenticeship" in freelance art doing my best
to bring the concepts I was inundated with, and perhaps the odd one of my own, from the realms of
Speculative Fiction to my commisions, whether they were airbrush murals on motorcycles or business logos.

However, it was Lynne Taylor Fahnestalk who, in 1990, brought me into the On Spec Magazine fold and I finally got to stretch my wings.

Below are thumbs of the illustrations that have appeared in On Spec from 1990 to 2001

The art is done with: Airbrush(acrylic lacquer), Ink,Corel Draw/Photopaint and Photoshop.
Some are a combination of pen and computer enhancement.

These are not the complete set of pictures.There's another half dozen or so waiting in the wings to be uploaded.
There are "some" closer looks on several of the pics as well.Just click on the pic...

If you have any comments or such, please


---
LIST OF
PUBLISHED WORKS
---
Aurora Award 2003 Nominated Art

Aurora Award 2002 Nominated Art


Interior Black and White Story Illustrations
Art for Four Tanya Huff Stories




Art for Other Stories
















On Spec Cover Art


---
Latest Updates
***************************
May 2002
Earlier this year Don Bassie asked me to do up a b&w cover for an editorial compendium
of pieces from his
Made In Canada - The Homepage for Canadian Science Fiction
Newsletter.
I came up with an idea then he told me what it was going to be titled.
The result can be seen by clicking on the thumbnail below.

So is this Hugo's secret ingredient???
***************************
July 2002
I am currently working on a cover for the
S.W.F.A. Bulletin
.
Dave Truesdale, the present editor saw the "World Beat" On Spec cover and
asked if I'd like to do one for their spring issue. That didn't happen as circumstances unfolded.
However a new cover is being specially designed for the next issue coming in August. The illustration that didn't make it is here, linked to the thumbnail below.
There's also a close-up if you're curious.

The new cover will appear here as soon as the publisher gives me the go-ahead.
***************************
Winter 2003
On Spec published an article on with several pages of art for winter 2002. The crazy looking head below opens up a page
with the new art done for that issue.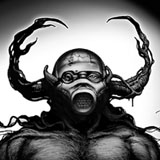 ***************************
June 2003
The cover for the SFWA Bulletin is online at the main site linked above
but also is now found above on this page, with the other art in the 2003 eligible Aurora art.
There is a scanned version from the actual magazine as well as the illustration prior to going to press.
***************************
August 2003
Went to Torcon3 and thoroughly relished it. Details? hmmmm maybe l8r....
Oh...Finally joined A.S.F.A. *grin* and thanks for bank machines.

Congratulations Mel Vavaroutsos on you Aurora win!!
Keep up the good work and don't let your rocket lose fuel!

***************************
September 2K3
I've been playing with some cover concepts.To have a gander at them click the banner blow.





***************************
October 2K3
Here's a couple of new spacy ideas and a somewhat bent dragon.
They're not quite complete yet but I'll update newer versions when they're worthy.

(LEFT) This started out as just an alien on a jovian moon but it looked as though it needed a handler.
(MIDDLE) A Rather Trunculant Dragon and His Sweetheart of a Faerie
(RIGHT) A Small cuttership departs the mothership to do something dastardly...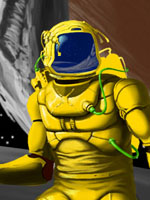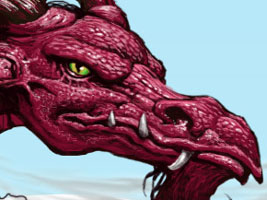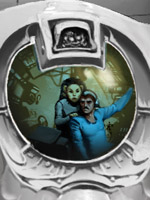 Happy Halloween and ... All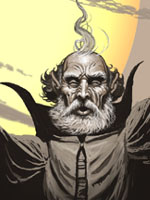 ***************************
May & June 2K4
It's been quite awhile since I've posted any updates and ...it's about time I did.

After doing illustrations for short stories and covers for magazines, my first full cover for a
full length novel is coming out in the next month or so from Edge Publishing.
The novel is The Apparition Trail by Lisa Smedman, an alternative sci-fi fantasy novel set in the
wilds of western Canada during the late 1800's.
Also, I will be attending Con-Version in Calgary (August 6-8, 2K4) as Artistic Guest of honor. As this is
my first "billing" of this sort the honor is truly mine. I am indeed looking forward to this event.

Hopefully by then my first novel cover will be available.
The cover is for "The Apparition Trail" by Lisa Smedman and will be available this June from
Edge Science Fiction and Fantasy Publishing*Tesseract Books

***************************
July 2K4
It's been a fun month.Spent a few days in Camrose enjoying the weather at Stage 13 the first weekend .
The ASFA Quarterly arrived. I have the incredible fortune of having my work on the cover and an interview
inside. The cover is below along with a slightly larger version.



***************************
August 2K4
I'm off to Con-Version XXI in Calgary (Aug.6-8)....see you there!!

***************************
September 2K4
Con-Version XXI was a gas!!! A trifle hectic but alot of fun. I learned alot about the con from the inside.
I met alot of great folk and saw quite a few friends. As Artist Guest of Honor it fell to me to design the
Official Con T-shirt as well as create the cover for the Program Booklet.
Of course there were a few inside drawings as well.

Program Cover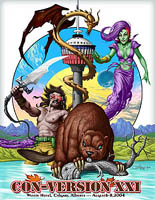 Portraits of the Guests of Honor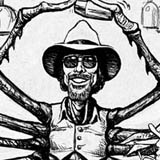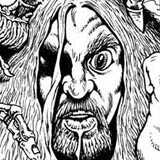 ... The Rest Of The Interior Program Artwork




The Promo Flyer Art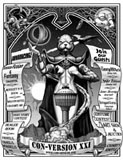 At the con I finally got my paws on copies of The Apparition Trail by Lisa Smedman.
There's some larger views accessible by the pic below.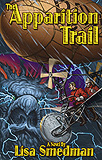 ***************************


November & December 2004

Here's the pieces I've been "putzing" with since the summer. The bottom row though were created during December.
I've gone back in time with some of the pieces here. "Chance Meeting" is an update of a cover for On Spec originally pixellated back in '93
using Windows 3.1 Paintbrush and a mouse.
The pieces "Mek Grrl", "Home Sweet Home" and "Catching a Buzz" were done from sketches in an old book from '85.















***************************


Spring & Summer 2005

I was busy during the spring with several airbrush projects on vehicles but did play with the "Catching a Buzz" piece on order to
make it worthy to enter the Aphrodisia Competition.The results can be seen
by clicking the thumbnail below.






I was also given the opportunity to do the intro graphic for Roadhouse Film's Visions From The Edge . The image used in the documentary
was a layered photoshop image done in a slightly "50's Pulp" style and animated by the film-makers.






With the Robert Jordan's new Wheel of Time novel a number of websites are working with Tor to promote "Knife of Dreams". I did the
piece for Dragonmount. I'll post the picture soon.







***************************
Fall 2005

I play online fantasy games and one, Guild Wars(NCSOFT), had an online Halloween Art Contest and
the pic below made it to their winner's circle of 10.






***************************
Winterspring 2005-6

A long overdue update here.This will cover the last few months, from December 2K5 to June 2K6.

Last fall I opted to place my work in the Directory of Illustration 2006 Edition.
In order to show my best possible work I then decided to add some new art
and work on improving some old.
The main new pieces for the publication are the four below. however due to the public nature of the book,
I decided to not include the mermaid.
I did include the full version of the picture from the cover for On Spec Spring 2006, further down the page... "the Spectre"








I also included an update of the "Dragon & Faerie". I did add to "Home Sweet Home" but decided
that it might be too dark both figuratively and literally for the Directory.





The piece below was also included though it is older.The original was a fantasy portrait of a lady who's
online presence was marked by an incredibly strong personality. I did update and refine it from the version
on my "Digital" art page.




Sometime last winter while pondering a snow covered field and wishing for spring, I was hit by an image of an eruption.
This concept started as a single sphere the evolved through the daemonic to the spectral. It was while working on the
spectral version that Derryl Murphy, On Spec's Art Director at the time, asked me about something for the spring issue.
He considered the trio but decided upon the ghostly incarnation. All three versions are included below as well as the cover.




Then came time in May to send in the art for my two page in the Directory of Illustration.
The thumb below opens up the full piece, though not actual size.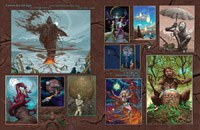 After submitting the art above, I played on a couple of ...uh... slightly different pieces.
These are still in-progress.





To cap off my spring, Derryl Murphy amd Michael Capobianco contacted me about
designing a 3" sticker for the Andre Norton Award Winners.
While my submission was not the only one being considered, it ended up being the one chosen.
Below is a link to a large silver and gold variations of the logo as well as the full colour version.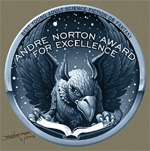 The Official Announcement from SFWA

***************************
Fall 2006

Here's two pieces I entered into WoW's first art contest.
In the 2D WoW Categories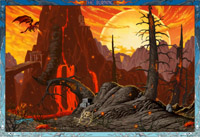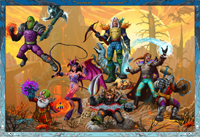 ***************************
WinterSpring 2006-07









***************************
Summer 2007

The image linked below was entered into a contest for WoWHead






The image linked below is a new double page ad in PLAY!






***************************
Autumn 2007

===The New NEBULA AWARD design===





Here's a few pieces that popped into existance as the vegetation outdoors withered.
They're still ... in progress.








***************************

Summer & Fall - worked on Artworx Vol. 1 -Link to come-
***************************

Winter 2K8 - Summer 2K9










---
An a nod to certain MMOtoonz...
THE ARTHAS PARODY PAGE
A Satirical Steaming Slough of Sticky Summertime Fun !!
---
Site Update : NOV 2011
Many Pictures Are Clickable for Alternate or Related Works
---
Fall & Winter 2010
The art for VCon 35 started in fall. It was terrific fun.

Updating and/or tweaking some older pieces..



---
Spring 2011
More Older Works Updated and/or Tweaked for Walls

My 2 concepts for the Stephen Colbert Portrait Update. Not aprospos apparently.

She's A Little Tea Pot...
A Strip Idea Starring Everyone's Favorite Dead Martyr.
The Dead Horse is Laughing !
Genuflect to Big Oil !!!



---
Summer 2011
Some self-indulgence...an' stuff
An old concept of alien world seeding now being expanded.

A couple of Ladies in the "Massive Alloy" vein. HEAVY METAL STYLE


Cover Art for Erik Bundy's New Terrific Novel from Lucky Bat Books.

Cover Art for J.M. Wolfe's Wild New Fantasy from Lucky Bat Books.

Commemorative T-Shirts for everyone's favorite Theosophical Mafia

Several Cover Art Concept Pieces for a new Live Album from Phantom's Walpurgis

An Idea to solve the Furor over Fluid Salon's billboard.
Read the Article on CTV's site

---
Fall 2011
A Gamer's Comic Strip ... dedicated to Steve Jobs.

A Cupple O' Poli-toonz
An Illustrated Editorial Letter Dissecting Ezra Levant's Woes with the Saudi Arabian Legal League The Cartoon that Never Happened...wait...it did...lol.


Another Take on the Dragoncave Concept. A Mural Maybe...?

Here's a Few Fun Things to do with LotRO's White Hand Emblem

---
Eligible Cover Art or Artist Category Aurora Award 2015
---
Coming Soon - Site Update - Spring 2015
---
Beveridge ARTWORX Book I
Available to Ship Exclusively from Here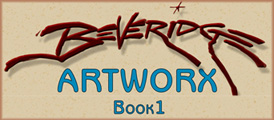 ---
---
HERE NOW!!
THE

---
---
All Works Copyright by James Beveridge 2012
James F. Beveridge's Artworx
MY ASSOCIATIONS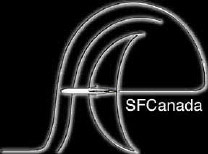 ---
Thank You for visiting my site and...if you want to vote, or just want to join the Canadian Sci-Fi Community please visit the
Aurora Awards
The Aurora Awards are given out for excellence in Canadian Sci-Fi and Fantasy: Books,Novellas,Short Stories,
Periodical Publications, Art and Fan Participation.
I have had the honour and privilege of being on the nominee lists for this award for (about) 7 years
and won the award for Artistic Achievement for 2002
---
If you came from another site, the link to my main site is
James F. Beveridge's Artworx
---
*Intracosmic is just a term coined here to cover fiction that tells of "Alternate Universes" whether they
be J.R.R. Tolkien's Middle-Earth or William Gibson's cyberverse.